Smart Property Management
---
Velie Real Estate is hands on property management with extensive building product knowledge used to preserve your property in the long term while considering short term profit in the owner's best interest.
No one is better at minimizing your costs, maximizing your return on investment, & preserving your property than Velie Real Estate.
Sellers Agent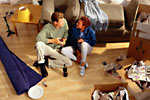 The decision to sell a home is often dependent on many factors. Whatever your reasons are for selling, my proven effective marketing strategies will ensure that you get the highest possible price for your home. I guarantee to provide you with professional, ethical and confidential service and keep you fully informed every step of the way.
With 10 years as a full time Realtor (as of January 2015), and principle broker of Velie Real Estate (Look up companies on Sunbiz.org), plus extensive building product knowledge, you probably cannot find anyone more qualified than Eddie Velie (Click here to see my resume). Call today! No one can expose your property or market the property better than Velie Real Estate.
More for Sellers from Velie Real Estate
Real Estate Checklists for Sellers
For Buyers, Sellers, and Home Owners
Click here to go green with environmentally friendly home improvements. Learn what to look for, learn what 2014 buyers want, and learn about available tax credits. Plus if you implement, you will get savings on your utility bills.